Metus MAM - Media Asset Manager and Archiving Solution

Television companies value MAM's support for industry standard formats, integration with editing and other broadcast systems, editing speed, the flexible deployment and robust management options, and the high availability and redundancy features. This makes it the ideal asset management tool for TV stations and playout head-ends.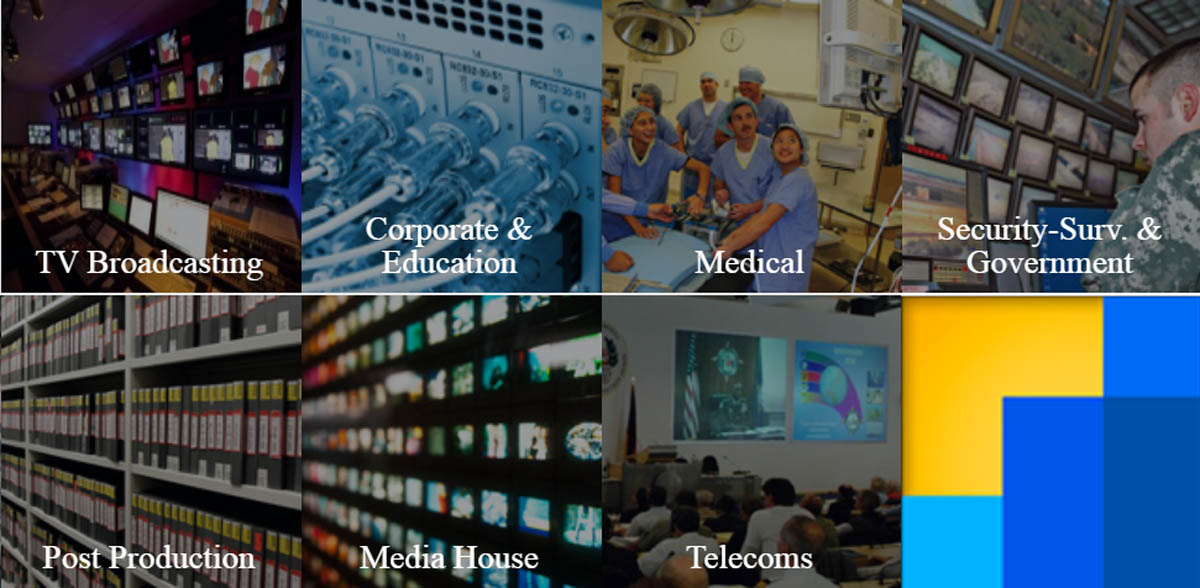 Metus MAM
TV Broadcasting

Television companies value MAM's support for industry standard formats, integration with editing and other broadcast systems, editing speed, the flexible deployment and robust management options, and the high availability and redundancy features. This makes it the ideal asset management tool for TV stations and playout head-ends.

Corporate & Education

Metus MAM's extreme ease of operation of makes it possible to train non video professionals easily. This, coupled with the security of Metus MAM, make it ideal for Corporate, Educational and Government industries that need to manage their multimedia assets.

Medical

Metus MAM can now meet the requirements of the medical industry for safe and effective data management and DICOM file transfer. The latest version of Metus media asset management solution is compliant with DICOM and HL7 standards, international protocols that ensure the secure handling of medical imaging files and standardize the sharing of data between various systems and different organizations.

Security-Surv. & Government

he high availability options of Metus MAM, combined with speed, ease of search, scalability, management and built-in access security features, makes it meet the challenge for mission critical deployments in the Security and Military industries.

Post Production

The video management functions of MAM, coupled with NLE integration and transcoding, make it an excellent choice for post-production facilities.

Media House

The ability to manage huge and constantly growing video archives, coupled with video transcoding, flexible export and delivery options, make Metus MAM the content management and distribution tool of choice for News Agencies and Media Monitoring Facilities.

Telecoms

The advanced video transcoding and packaging functions, combined with flexible metadata management, custom metadata export and high availability functions, make Metus MAM the perfect integration partner for middleware/webTV/IPTV management systems developers, and an ideal choice for telecoms operators as a Content Management System.
Metus MAMMedia Asset Manager and Archiving Solution
Introducing Metus MAM
MAM is a scalable media management system. Its asset management and transcoding tools helps workgroups catalogue, share and protect every asset and project, andoptimizes every file for use.
Metus MAM (Media Asset Manager) helps you do the following:
■ Organize your media assets into an archive
■ Track each file and project
■ Convert your assets in as many formats as you want
■ Help users find the right file fast
■ Secure your archive with appropriate access rights granted to each user
■ Export and deliver your assets in any format
■ Interface between your archive and 3rd partprocessing, editing and playout tools
■ Keep track of actions performed on your archive Metus MAM is ideal for any organization that has a valuable and growing archive of media assets

What are the benefits of Metus MAM?
Metus MAM has over 4000 installed users distributed around 50 countries. These include TV stations, head ends, telecoms, webTV, IPTV operators, corporates, educational institutions, production companies, media archives, government, militaryand security agencies.

Scability
Scale from a single server and a local workstation to multiple servers distributed on a WAN, spanning dozens of servers and hundreds of clients. MAM can support multiple storage arrays and multiple servers running components of each type working collaboratively, for load balancing or redundancy. Multiple servers located remotely can communicate and synchronize with each other, over internet or WAN. There's no architectural limit to the size of the system.

Format Support
Metus MAM is format agnostic, natively supporting open industry standard formats, including:

File wrappers: MPG, M2P, AVI, F4V, MXF, GXF, MOV, XDCAM, MP4, TS, WMV, WAV, M4A, P2, Microsoft Smooth Streaming
Codecs: MPEG2, DV, DVCPRO, uncompressed, DVCPRO50, DVCPRO100HD, H.264, AVC, AVCIntra, Apple PRORES, IMX, VC-1, PCM, AAC, WMA
Common image formats are supported as well as document format such as Word, Excel and pdf. It also supports popular archive formats like zip, rar etc.

Processing
Metus MAM's built-in video processing engine Metus Process Server (MPS) is faster, and more feature-rich than many dedicated file transcoding products. For large systems it is deployable in a load balancing farm topology. It can be used to: - Auto-generate proxies
- Transcode between file formats - during import, export, or any time in between, or based on a given schedule.
- Attach multiple transcoded versions of the file to the original assets, for instant on demand delivery in any format
- Cut, trim, paste and join video files for basic video editing
- Embed extra audio channels, surround sound
- Package to TS and adaptive bitrate formats for Internet delivery

Files created and transcoded by Metus MAM are frame accurate, so that users can seamlessly switch from proxy to hi-res during playback, or use the proxy files in editing software and switch on the timeline with hi-res versions later, without corrupting the edit.

Storage Agnostic
Metus MAM supports NAS, DAS, SAN using Ethernet, fiber, iSCSI, SAS connectivity. MAM can also manage tape drives and libraries as nearline/offline storage or backup. The Information Lifecycle Manamagement (ILM) feature can automatically move files between tier 1, tier 2 and tier 3 storage systems based on access frequency, or other user-defined rules.

Speed
Metus MAM is fast. Users can start working with assets as soon as the import starts. Videos can be played, trimmed, cut, even before they finish copying into the storage. Teams can even edit videos that are still being captured by Metus Ingest. Metadata can be input manually or automatically during or after capture. The client user interface is entirely virtual. All objects, including bins, assets and even thumbnails are read from the database so browsing bins that contain hundreds of assets is very fast. Metus MAM even allows users to work on nearline/offline files, as if they were online, by keeping frame accurate proxy versions on HDD based storage.

Ease of Use
Metus MAM is easy to use, with a single, intuitive interface. Importing assets is a matter of dragging and dropping files into the client interface, or copying them to a watch folder. Basic information about clips, like format, popularity and location are available on the thumbnail, and all metadata is available via the user interface in a single click. A storyboard timeline is automatically created to quickly navigate to the right point. Clips can be played directly from the interface, or from a media player, where users can play at their preferred speed, and mark points and regions using keyboard shortcuts. Files with multiple audio channels are handled with ease. Users can even have one language on the left headphone and another on the right. Organizing clips is as easy as dragging to a folder, metadata entry is a matter of clicking and typing. Search is as easy as using Google, or clicking on a folder. And export is as simple as dragging any authorised file.

Metadata and Search
For super-fast retrieval from archive, Metus MAM allows administrators to create unlimited metadata fields, categories and types. Assets can be organized in virtual bins for easy access. Virtual assets from the same file can be created with different metadata. Searches can be performed Google-style as free text search, or users can build custom searches using any kind of existing metadata. Frequently performed searches can be saved as search bins, to be run at will. Users can even optionally perform an image search, to locate an image from all pictures and videos in the archive.

Export and Delivery
Metus MAM enables users to deliver a large number of multimedia assets to multiple locations. Files can be made available to subscribers for web download via Metus Web client, or customized browser-based clients. Files can be automatically transcoded on-the-fly during export to any number of formats. If the exported files need to be imported to a third party system, custom xml based metadata form reports can be created and exported automatically together with the files.

Security
By default, file access is restricted to users running Desktop Client, with separate and individually assignable user permissions for adding, playing, editing, downloading and deleting assets. Permissions can be assigned at the project, bins, or file level, or even on individual metadata fields. Users can be given the right to request a certain permission, which upon granting gives one-time user rights. Parts of assets can be limited to video or audio only, non-destructively hiding sensitive information from specific users.

Management
The archive is organized around Archive Projects, which encompass media files, metadata, and security. Different projects within the same Metus MAM installation, may have different media storage, archive servers, diverse metatada fields and different users. Metus MAM's User Actions monitors system events: every action is logged, together with where, when and by whom. This log can be easily browsed, sorted, filtered, shared and exported. All delete operations are virtual and can be retrieved from the built-in Recycle Bin by administrators. The assets can be optionally versioned so that changes on them (metadata or video) can be tracked and rolled back.
The Scalable Asset Manager
Built to accommodate every size of organization with changing needs, MAM can grow to support everything from a small local workgroup to a global enterprise. Metus MAM is a client server based system. As a scalable system, users can initially host multiple server side components on a single server. As the catalogue and users' needs develop, each of the server components get be installed on its own server, or shared among multiple servers.
The components that make up a Metus MAM solution are:

Fully Loaded Desktop Client for Windows PC
The local client gives users and administrators access to the system's search,file management and processing tools. Customized according to individuals' security rights, it's a versatile and powerful tool. The local Windows client allows users to see and interact with files and projects. It is typically used by power users who wish to use all of the functions of Metus MAM, including file transcoding, clip cutting, joining and editing, in addition to basic functions such as importing, browsing and searching. Users with admin rights may also configure and administer the system from the Desktop Client. The Client also includes the Media Asset Viewer, a customized player application used to play the assets at normal, fast, slow, reverse speeds, mark points and regions on the assets with metadata, choose and mix between audio channels, and mark in and out points.

Metus Process Server (MPS), the File Processor
Metus is an expert in file processing and format conversion. MPS gives MAM users sophisticated tools making them more efficient and productive.

MPS is the file professing engine that handles the following actions:
- Transcode between supported file formats
- Create low resolution proxies of assets for network and web based playback
- Trim clips and create new assets
- Join multiple files and clips
- Audio channel mapping, remapping and embedding
- Package to TS and adaptive bitrate VOD formats
- And many more video processing options

Metus Process Server runs on version of Microsoft Windows 2003 and 2008 Server, or Windows 7 Professional (64-bit)
Multiple MPS servers can be installed to scale the video processing power through intelligent load balancing.


Metus Web Server and Online Web Client (MOL) – the Cross-Platform Client
MOL gives local and remote users fast access to the archive, using a variety of devices.
MetusMAM can also be accessed and used by a lightweight, cross-platform web client. This client allows users to:
- Import video files - Enter metadata - Browse the archive - Play the proxy files. Metus Web Server (running on Windows 2003 or 2008) is required to host the web client Server.


Metus Image Matching Server (MIM)
MIM users breakthrough technology to accelerate visual searching. Intelligent algorithms help teams to find the right image or video fast. This optional server component allows users to search the archive for any image based on pictorial characteristics and display results in order of relevance. The image search is based on a custom algorithm that analyses the multimedia files in advance, calculates the visual information and searches the database accordingly. The image matching is then performed at the database level, and therefore thousands of hours of video can be searched in seconds.

Metus NLE Plug-Ins
By linking Metus MAM to your preferred editing software, projects can be accessed quickly and managed securely. The editing workflow is accelerated by using Metus MAM's search tools from within your NLE.
Metus MAM has plugins for Adobe® Premiere® Pro CC, Grass Valley EDIUS® and Sony Vegas®, as well as a MAC Client and Gateway for Final Cut Pro®. Plugins are opened from within the NLE interface and allow the user to:
- Search and browse the MAM project as if using the Desktop Client - Play clips inside the plugin - Drag proxy versions of files onto the timeline - Conform and render edits with full resolution files.


Metus Archive Server (MAS), the Asset Controller
Organizing files, clips and assets across multiple storage devices is undertaken by MAS. It's an essential component of Metus MAM. At the heart of Metus MAM, MAS manages the media storage arrays. It sits between the clients, the database, and the other server side components and fulfils multiple functions:

- Regulate the media and data traffic - Apply security restrictions and user access rights to protect valuable assets
- Handles the archiving process, moving and distributing files to the appropriate storage location and delivers the file path to the client
- Manage the media life cycle of assets according to pre-set rules Additionally, it can function as a backup for other servers. Metus Archive Server runs on Microsoft Windows 2003 or 2008 64-bit Server and supports multiple NAS, DAS and SAN storage units. Multiple MAS servers can be installed for load balancing during archiving or for redundancy purposes.
*本產品將持續創新,規格可能會有變動,當產品設計/規格變動,恕不另行通知。